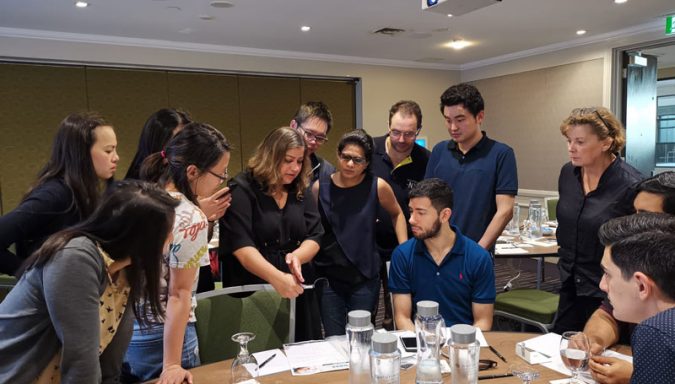 Congratulations, graduations and gratitudes!
BOSS Courses, Dr Katyal's Publications
As 2019 draws to a close, I find myself looking back at what has been another incredible – and incredibly busy! – 12 months for BOSS, packed with new course offerings, technological advances and the expansion of our alumni of highly skilled dentists. I am really proud of what we are achieving, both in terms of enhancing outcomes for more patients across Australia, and in progressing the careers of more dental professionals.
This year was a big one for our groundbreaking professional development course, the Postgraduate Diploma in Digital Orthodontics. It is very satisfying to be able to report that, of the 55 dental practitioners that enrolled this year, 51 have already successfully completed their assignments and passed the requirements for the Diploma!
This is a huge achievement for everyone concerned, with graduates being the very first in Australia to receive the accredited qualification PGDip Dig. Orth.(UK). From my interactions with graduates, and from witnessing the high quality of their work, I know that each of them, having done this evidence-based, modern and practical qualification, will work ethically, safely, efficiently and within their scope of practice when managing orthodontic cases.
So, firstly, a huge congratulations goes out to all grads for their diligence and dedication. And, secondly, I give enormous thanks to them for placing their faith in BOSS to deliver this innovative professional development: we know that it will reap dividends both professionally and personally, in terms of the rewarding new challenges they will now experience.
I would also like to thank graduates for their wonderful feedback – it makes it all so much more rewarding to know that the experience
Having always steered away from clear aligners and only stick with fixed braces, I've finally decided to give aligners a go this year. BOSS is extremely practical, informative and backed up by heaps of research. Dr. V is a great mentor, she's always helpful and truthful. The team at BOSS and CCC smiles are just amazing, always there to help you whenever you need, even if it was a question that's be repetitively asked many many times =p. I would highly recommend BOSS to anyone who wishes to start their journey in digital orthodontics. With Dr. V and her team behind me, my confidence level is soooo much higher and I feel like I am delivering my treatment to a higher standard and overall making me a better clinician. Thank you Dr. Vandana!!
On the subject of giving thanks, you may be familiar with the concept of 'daily gratitudes' – the process of consciously taking a few moments each day to consciously contemplate and give thanks for something good in your life. So many of us lead such busy lives these days, multitasking and rushing from one thing to the next, that a state of stress can become the norm and obscure the elements of good fortune that we enjoy. Even a few seconds of mindful reflection, and giving thanks, is good for the soul and helps to put into perspective the difficulties we sometimes face.
Smile Train, the corporate give-back partner that BOSS supports is a great example of this. Just looking at a snapshot of what these wonderful people do to transform the lives of poor kids with cleft lip and palate also prompts us to give thanks for the blessed lives that we live here in Australia. On behalf of myself and Smile Train, I would also like to say a big thanks to you for helping us fund these lifechanging operations. For each BOSS course enrolment, we donate the cost of one surgery.
Without corrective surgery, these kids are destined to live lives curtailed by severely restricted social, educational and employment opportunities, so we are incredibly proud of the fact that in 2019, BOSS and our associated companies have directly funded these operations for 55 children. That's 55 lives completely and utterly transformed for the better.
These kids did not have access to medical care and some had to travel hours to get this surgery, often sleeping on hospital floors when no beds were available. Our mission in 2020 is to help 100 children – and with your kind referral or review of BOSS courses, we will be well on track to achieve this goal.
Last, but not least, I would like to say thank you to our sponsors and to my team for making every Best Orthodontic Seminars and Sessions event this year so successful. Every member of the team has been absolutely integral to our growing success, so we raise a glass of thanks and acknowledgement, and toast to another wonderful year to come.
'To a healthy, happy and prosperous 2020!'