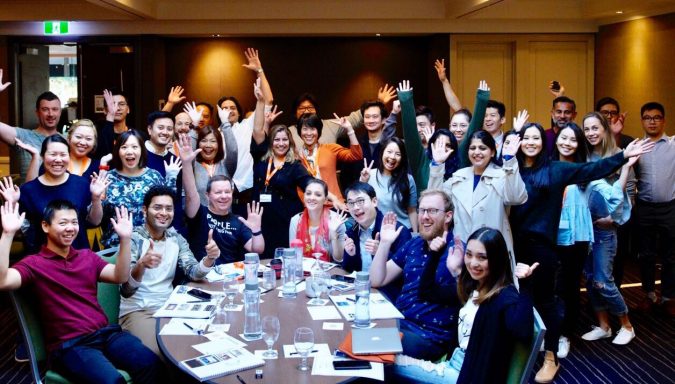 A vote of confidence in clear aligners!
BOSS Courses, Dr Katyal's Publications, Uncategorised
Last weekend in Sydney I was thrilled to share some of the latest advances in clear aligners technology and best practice with a large group of fellow dental professionals.
If you've ever met me, you'll know how passionate I am about raising standards in the quality of service, and in the outcomes, that dentists and orthodontists can deliver to patients who have taken the big step of straightening their teeth with Invisalign.
On Saturday, as the rest of the country was going to the polls (we'd already cast our ballots!), I welcomed a roomful of dentists dedicated to enhancing their skills in the field of clear aligners.
As the group got comfortable in the Pullman Hotel overlooking Sydney's beautiful Hyde Park, we started the 2-day 'Clear aligners beyond accreditation' course by exploring exactly why clear aligners are the future of orthodontics, and looking at how remote monitoring can increase treatment efficiency.
I'm a huge proponent of technology and am something of an early adopter – whenever I discover some new equipment or software that improves the way we do things, I have to have it! Remote monitoring is a perfect example of this, as it allows dental professionals to efficiently monitor patient's teeth straightening progress remotely, via a phone app and software. The course attendees were keen to hear about the findings of my AAO-accepted research in this area, and to learn tactics for implementing remote monitoring with their patients.
Next up was a session on how to individualise treatment plans based on smile design principals, featuring 3D simulations and case presentations, after which the biomechanics of aligners were under scrutiny. Attendees learnt how to effectively and efficiently use clear aligners to a higher standard, which included insights into the best attachments for various situations, finishing with aligners, and understanding aligner efficiency.
We wrapped the first day with a look at clear aligner attachment protocols, exploring how to identify treatment aims and biologic limits of tooth movements, estimate appropriate arch form, and understand the effect of expansion/extraction on space, attachment and treatment sequencing protocols.
Sunday morning kicked off with an overview of Invisalign Teen, always an area of great interest, in which attendees learnt the basics of facial growth and timing for various treatments, and how to apply growth modification principles.
Day two also covered how to deal with vertical problems in clear aligners, before concluding with a workshop featuring group-based case discussions and treatment planning for clear aligners, which brought together aspects of the multiple areas that had been covered during the weekend.
By the time the course ended on Sunday afternoon, attendees had developed not only a thorough understanding of the growing evidence for using clear aligners, but also an informed appreciation of how it will impact their treatment planning in the years to come.
It was a superb weekend, packed with learning and practical skills for attendees to implement in their practices, and the feedback has been fantastic, with many echoing the sentiments of previous attendee Dr James Zvirblis, a NSW dentist; 'Vandana's BOSS course gave me a much better insight into clear aligner systems, what they're good at and what they're not so good at. The biomechanics section was particularly useful, and she went over a lot of troubleshooting which I had no idea about previously. Would highly recommend course 2 for anyone starting out with Invisalign or other clear aligners!'
I am in my absolute element when I am surrounded by industry peers eager to gain the benefits of my extensive experience with clear aligners, and I can't wait to do it all again soon!